Verick Schick
Advisor, Agency for Business and Economic Development (AWE)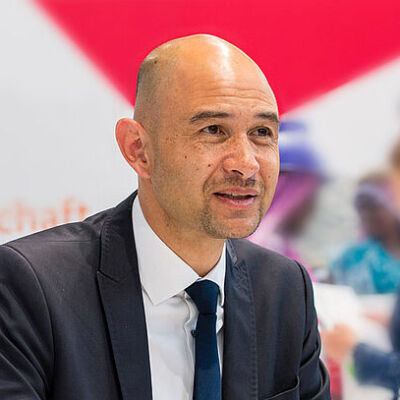 Verick Schick
Advisor, Agency for Business and Economic Development (AWE)
"Global decarbonisation is of upmost importance. Public financial and technical support must be accompanied by private measures to achieve this. @AgenturWirtEnt on behalf of @bmz_bund advises the private sector on sustainable investments within this sector free-of-charge."
Verick is energy expert at the Agency for Business & Economic Development (AWE). He advises companies from the private sector on promotional programs and financing solutions of the German Federal Ministry for Economic Cooperation and Development (BMZ). The Agency is a joint project of GIZ – Deutsche Gesellschaft für internationale Zusammenarbeit – and DEG – Deutsche Investitions- und Entwicklungsgesellschaft.
Verick's previous experience includes different management positions at Procter&Gamble, Gillette, the Fraunhofer Society and at GIZ. He spent several years on the African and Latin American continents. In one of his positions, he advised decision makers from Moroccan ministries, state agencies and industries on the use of solar energies and energy efficiency focusing on local value creation in the context of the Moroccan Solar Plan.
He holds a degree in chemical engineering from the Karlsruhe Institute of Technology and MBA from the University of Toronto and the University of St. Gallen