Ticker: News from the Organising Team
30.03.2023 - 09:48h
We would like to thank all speakers, moderators, sponsors and of course all participants for a great Berlin Energy Transition Dialogue 2023. But don't forget: After the BETD is before the BETD – the 10th edition of our dialogue format will take place in Berlin in mid-March 2024.
29.03.2023 - 08:00h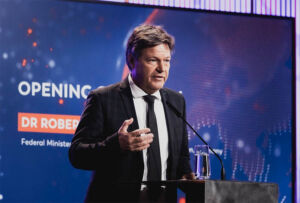 We hope you had an exciting first day at the #betd23 conference and also had the opportunity to attend our evening reception. In the meantime, day two is already in full swing, with a keynote speech by Federal Minister of Economics Dr Robert Habeck and many other highlights. Also use the
livestream
to stay up to date.
24.03.2023 - 13:01h
The German services union ver.di and the railway workers' union EVG have called for nationwide, one-day strikes on Monday, 27 March, which will also affect Munich and Frankfurt airports as well as long-distance, regional and urban public transport. If necessary, please inform your travel partner / travel agency or delegation lead immediately about the situation and possible rebooking options. Despite the situation, over which we unfortunately have no influence, we wish you a good journey and looking forward to see you next week in Berlin!
20.03.2023 - 12:51h
As every year, the most important speeches and sessions will be available in the livestream. You can access these streams in time for Tuesday morning next week here via our website or directly via our YouTube channel. The links will be posted on our Livestream page shortly. So no one will have an excuse to have missed #betd23.
14.03.2023 - 08:05h
Do you feel the same way? We can hardly stand the annoying waiting until the conference in two weeks. So it's just as well that our new video trailer has just been released. Shorten the waiting time with this atmospheric introduction to the #betd23! Watch the trailer on our YouTube channel!
10.03.2023 - 11:26h
Apart from our exciting conference programme, other interesting side events will be taking place throughout the week of 27.03-31.3.2023 as part of the "Berlin Energy Week". Make the most of your trip to Berlin and register now for our side events.
23.02.2023 - 10:25h
32 days to go! As the #betd23 draws closer, we are thrilled to announce an expanding selection of distinguished speakers who will be joining us for this landmark event. We invite you to visit our speakers page, which features an up-to-date list of all confirmed panelists, offering a comprehensive overview of the esteemed professionals who will be contributing their insights and expertise to the conference.
17.01.2023 - 14:34h
Finally! We are very happy to present you the agenda for #betd23 here on our website. Take a look at what we have planned for the individual sessions and keynotes. In the coming weeks, we will gradually present the confirmed speakers to you. Plese be informed, that the status of our agenda is still preliminary, minor shifts or additions are still possible. Please check our agenda page for frequent updates.
13.12.2022 - 10:05h
While our organising team is busy preparing an exciting programme for #betd23, we have already set the corresponding motto. It is "Energiewende – Securing a Green Future". We are really looking forward to the conference in March in Berlin. Please mark your calendars: 28-29 March 2023!
08.11.2022 - 08:18h
After a long, corona-related break, the Green Sofa, BETD's "plush" ambassador, is back on the road at important events around the world. Meet us in the exhibition area of the UN Climate Change Conference COP27 in Sharm-el Sheikh / Egypt between Nov 7 and 20. Sit down on the Green Sofa and let us know what your personal reasons are for standing up for climate protection and energy transition. Find out more about the Green Sofa here or follow our Green Sofa Twitter feed.
24.10.2022 - 12:04h
The next Berlin Energy Transition Dialogue on 28-29 March 2023 is still a few months away, but our organisational team is already working for you in the background and preparing the upcoming conference. Please reserve time in your calendar now for your participation. Exciting discussions and new topics in terms of the global energy transition await you. We look forward to seeing you!